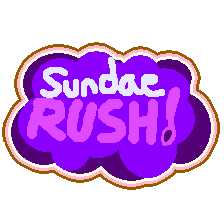 Sundae Rush
A downloadable game for Windows
Scoop up and juggle ice cream to make a big sundae stack, and then catch it in a cone to earn points. A stack with more scoops will earn extra bonus points! Bigger scoops earn more points, too. Watch out for scoops that fall from the ceiling! Throw scoops into airborne ones to connect and juggle them for big combos! Throw scoops at the falling cherries to activate power-ups. A UFO might come by asking for a certain flavor. Feed it for a bonus! If you drop three scoops, or if the meter on the right depletes, it's game over! Fill up the meter by scoring points.
CONTROLS:
Hold left mouse button over ice cream tubs: create new scoop of ice cream
While holding ice cream, move mouse over tubs: increase scoop size
Release left mouse button while holding ice cream: throw scoop in direction of mouse movement
Hold right mouse button: use ice cream cone and catch falling sundaes.
Credits:
Made using Gamemaker: Studio. Sound effects made in Bfxr. All art, design, and programming done by me during the jam. Special thanks to my family for playtesting!
Music used is "Frog Legs Rag" by James Scott (public domain).
Install instructions
Download the zip and run the executable inside to play the game!